About us
We combine rehabilitation care with the unique possibilities of virtual reality
Lack of specialists and long waiting periods. This is a common situation in rehabilitation. Yet, it is timely and regular exercise that is the key to progress in the treatment of patients. Our personal experience with this issue led us to develop our application. The aim is not to replace rehabilitation workers, but to make their work much easier.
VR Vitalis Pro is an innovative application that is certified as a medical device and is specifically designed with the needs of professional rehabilitation departments in mind. It is a combination of rehabilitation care with the revolutionary possibilities of virtual reality, which brings quality medical care and efficient operation of the rehabilitation department.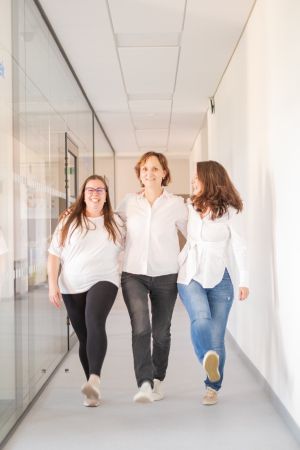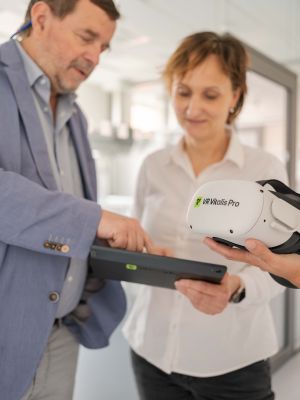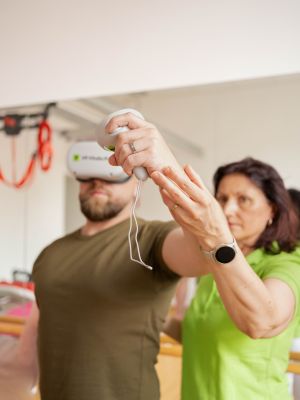 Our team
We are a team of people who share a passion for health, technology and innovation
Mgr. Jana Trdá, Ph.D.

CEO

Jana is responsible for strategy and product definition in the company. She is the founder and also the main innovator.

Marie is the main manager of the company. She is responsible for team management, project management and quality, which is essential for our product.

Hana Starečková

assistant

Hana is the company assistant and our right hand. She helps us tremendously in operations and communication with clients.

Lukáš

chief of developers

Lukáš is the chief of developers. He focuses on Unity, i.e. directly on VR development. But he is also responsible for other graphic designers, developers and colleagues who take care of our administration.

Honza is our chief product designer. He works on the application layout, including the user interface. To make everything look nice and easy to use.

Vašek makes sure that we have everything nice. He models and designs the environment and various elements for exercises. Sometimes we give him a hard time with our demands.

Martin mainly deals with the web part of the application, which is the administration. He designs applications, programs, prepares and patiently explains.

Martin Komár

sales representative

Martin is responsible for communication with clients. He is their point of contact and support for needs analysis and familiarization with VR Vitalis.

Patrik Baroš

sales representative

Patrik is our sales force especially for the Prague and Central Bohemia region. He will be happy to explain and demonstrate our VR Vitalis product.

Pavel Hochman

sales representative

Pavel helps us with business in Prague and Central Bohemia. He is happy to talk about virtual reality and demonstrate our great product VR Vitalis.

Kristýna Kaňovská

marketing specialist

Kristýna is in charge of communication and presentation of our company at conferences, fairs and in the digital world.

Tereza takes care of the application and administration for us before it goes into production. She checks that everything works and looks as it should, and exercises in the app the most of all.

Marek Krumpholc

sales representative

Marek represents us in South Moravia. He is an experienced salesperson and negotiator who focuses on achieving sales goals and long-term customer satisfaction.
---
External team of experts
VR Vitalis Pro is developed in close collaboration with leading experts
doc. MUDr. Michal Filip, Ph.D., MBA

neurosurgeon

Michal is an experienced neurosurgeon. He also has experience in spa care, having managed a regional hospital and a rehabilitation institute. He is now the head of the Centre for Artificial Intelligence, VR and Telemedicine at OSU Faculty of Medicine and credits his experience as our medical expert.

Mgr. Marcela Dabrowská

occupational therapist

Marcela is an experienced occupational therapist who also passes on her experience to students at the Faculty of Medicine, Ostrava University. She is very helpful in setting up the product as well as testing it and conducting expert studies.

MUDr. Šárka Baníková

rehabilitation doctor

Šárka is a rehabilitation doctor and head of the Clinic of Rehabilitation and Physical Medicine at the Ostrava University Hospital. She leads a team of physiotherapists who design and test exercise modules for us.

MuDr. Štefan Reguli, Ph.D.

neurosurgeon

Štefan is a neurosurgeon and also leads the LERCO project at FNO, which aims to link basic research, applied research and commercialization of scientific outputs. He is our main expert on the app for awake operations.

prof. Mgr. Roman Jašek, Ph.D., DBA

expert in new technologies

Roman is the director of the Institute of Informatics and Artificial Intelligence at Tomas Bata University in Zlín and a great expert in new technologies.

MUDr. David Školoudík, Ph.D., FESO, FEAN

neurologist

David is an experienced neurologist and also Vice Dean for Science and Research at the Faculty of Medicine of the Ostrava University.

Mgr. Marie Kaniová, Ph.D.

linical speech therapist

Marie is a clinical speech therapist with extensive experience. In the project, she helps us mainly with a module for recognizing and testing speech disorders, for example in awake operations.

Mgr. Renáta Čecháčková

physiotherapist

Renáta works as a physiotherapist with experience in the private and currently public sector. In the project, she is responsible for the design of exercises, their description and testing in patients.

Bc. Irena Skřinařová

physiotherapist

Irena is a very experienced physiotherapist who has experience in both outpatient and inpatient rehabilitation. In VR Vitalis she helps with both setting up individual modules and testing them.

Mgr. Kristýna Müllerová

physiotherapist

Kristýna works as a physiotherapist in inpatient rehabilitation. She focuses with us on the preparation of individual exercise modules and their verification in practice.

MUDr. Jana Štveráková

chief physician

Jana is a rehabilitation doctor and head of the Medical Rehabilitation Department at AGEL Hospital Ostrava-Vítkovice. She leads a team of physiotherapists and occupational therapists who together with us design and test exercise modules for patients.

Bc. Patrik Kadlčík

physiotherapist

Patrik is a physiotherapist with extensive experience from the Medical Rehabilitation Department at AGEL Hospital Ostrava-Vítkovice, but also from a sports club or private practice. He helps us with setting up and testing rehabilitations in virtual reality.

Mgr. Michaela Plandorová

occupational therapist

Michaela is an occupational therapist in the Medical Rehabilitation Department at AGEL Hospital Ostrava-Vítkovice. She is devoted to the exercise of patients in virtual reality. She helps us design and verify the effectiveness of rehabilitation modules.

Mgr. Aneta Svobodová

physiotherapist

Aneta started working with us already during her studies. She now works as a physiotherapist in a Brno hospital. She helps us mainly with instructing clients, processing documents for studies, etc. She has a great gift of patience even in physiotherapy work with children.
They wrote about us
Articles and opinions from various media and experts that make us happy
Contact us
Are you interested in our application? Do you have any questions about it? We will be happy to answer them, please contact us.